Dr Ali Almihdar
What next?
To find out more, contact Sam Carter on +44 (0)203 989 6669 or Colin Bunyan on +44 (0)20 7427 4886 for a confidential discussion.
Our professional clerking staff can help you identify the right barrister for your case.
Dr Ali Almihdar brings to the Bar of England and Wales much experience of legal practice in the Middle East. He splits his professional time equally between Saudi Arabia and London. His work covers the full spectrum of commercial legal practice from advice to drafting, arbitrations to advocacy. He has offered Saudi legal advice and services over a wide range of subjects including advising clients in negotiation of contracts, formation of Saudi Companies, foreign capital investment licences for temporary or continuing commercial activities in the Kingdom, shipping, intellectual property matters, agency and distributorship, construction projects, arbitration, litigation before courts and tribunals, labour law matters, private client, family and succession, and general Saudi, Gulf States and Yemeni commercial and corporate legal advice.
Educated in law at Churchill College, Cambridge (MA & LLM), his legal career started as Legal Adviser to the Saudi Ministry of Petroleum and Mineral Resources, and then expanded (through Almihdar Law Firm (ALF) established in Jeddah, 1976) to handling work for that Ministry and many other corporate and private clients from around the world, including the UK, the USA and Western Europe. He holds a PhD from Alexandria University in Egypt for his thesis on "Fairness in Contracts".
He was the Honorary Legal Adviser to the British Consulate in Jeddah from 1998 to 2010.
Being equally comfortable working in either English or Arabic, he is well positioned to represent clients in the English and Saudi courts and official circles and in any other jurisdiction where his dual qualifications will gain him rights of audience. He also holds an official Saudi Translation Licence: Arabic to English and English to Arabic issued by the Ministry of Commerce and Investment.
Ali is frequently invited to speak on his areas of specialism, both in the UK and abroad. Some of his lectures and panel discussions are:
"The Means of Proof in the Shari'ah System of Law", SOAS, University of London
"The Applicability of Shari'ah Principles in Legal Practice", at the International Bar Association's 2nd Biennial Conference on Islamic Banking and Finance, Dubai
"The law does not protect fools… or does it?" Saudi – British Society at the Arab – British Chamber of Commerce, London, 14 April 2010
"Tracing Assets in Saudi Arabia", C5's inaugural conference on Fraud, Asset Tracing and Recovery in the Gulf, Dubai, 24 January 2011
"Placing the 2010 Bribery Act in the global context with particular emphasis on existing legislation in Saudi Arabia and the Middle East", Bribery and Corruption Seminar, Bedell Cristin, Jersey, 30 March 2011
"A Comparative Discussion of Cultural Differences and Approaches to Negotiating and Contracting in Various Jurisdictions", State Capital Group International Meeting, Istanbul, Turkey, 24 June 2011
"Comparisons between certain aspects of the Shari'ah and the Common Law", Cambridge Muslim College, 2014
"Aspects of the fairly new Arbitration Law in Saudi Arabia and the brand new Commercial Arbitration Centre". Panel discussion, Hadef & Partners, Dubai, 2014
"Dealing with Fraud Under the Common Law and Shari'ah Systems: A Comparative View" at C5's 2nd Annual Fraud, Asset Tracing & Recovery in the Gulf Conference
"Succession planning for wealthy Arabs: how to ensure transfer of assets to the next generation?", panel discussion, the Private Investor: Middle East Conference in London in September 2018
Publications
The International Perspective – Middle East Chapter in "Lissack and Horlick on Bribery" (2nd edition, 2014, LexisNexis)
The Saudi Arabian Chapter in  "International Succession Law" (last updated in January 2018, Iss.56, Bloomsbury Professional)
Al'adalah fi Al'oqoud (in Arabic, meaning Fairness in Contracts: A Comparative Study of the laws under the Sahri'ah and the positive laws of Egypt and the Common Law and Civil Law systems), published by Dar Al-Kitab Al-Masri, Cairo, and Dar Al-Kitab Al-Lubnani, Beirut, 2017
Appointments & Memberships
Arab British Chamber of Commerce
British Institute of International & Comparative Law
Commercial Bar Association
Financial Service Lawyers Association
International Bar Association
London Court of International Arbitration
The Royal Academy of Dramatic Arts
South Eastern Circuit
The Saudi British Society
Awards
In February 2016, Dr Ali Almihdar was the first Saudi national to receive the Al Rawabi Holding Award. This is an annual award which is presented to two individuals who have made an outstanding contribution to furthering Saudi – British relations by the Saudi British Society. See his acceptance speech here.
Languages
Arabic (native)
English (fluent)
French (basic)
Italian (basic)
---
Dr Ali Almihdar is regulated by the Bar Standards Board (BSB) and holds a current practising certificate. If you are not satisfied with the service provided, please click here.
Areas of Law
---
Recommendations
---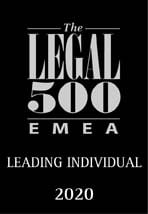 Activity
---